Details
Sold!!!

Body Type: Convertible
Year: 1972
Engine Size: 4.5L
Trans: Automatic
Fuel Type: Gas
Ext color: Blue
• 1972 Mercedes-Benz 350SL Roadster
• August 1971 Production!
• Number 513 off the Assembly Line!
• Just 75,167 Miles!
• Top of the Line Model!
• Powerful and Smooth 4.5L V8 Engine!
• 3 Speed Automatic Transmission!
• Fantastic Condition!
• Breathtaking Medium Blue Metallic Exterior with a Brand New Blue Top!
• Lovely Dark Blue Interior!
• New Tires and Correct Wheels!
• Fitted with Every Conceivable Option!
• Original Becker Radio!
• Books, Spare Tire, Jack, and Much More!
• Fresh Major Service!
• One of the Best Condition, Lowest Mileage, and Correct Example to Be Found ANYWHERE!
• Incredible Investment Potential!
SHOWROOM PRICE: $27,900
DISCOUNT: $3,000
SALE PRICE: $24,900!!!
Call 618-791-4020 today for a worldwide shipping quote!
PPW Motorcars is pleased to offer this stunning 1972 Mercedes-Benz 350SL, which was exquisitely ordered in the iconic Medium Blue Metallic with a beautiful brand new Blue soft top over a powdery Dark Blue Interior! Being the only one we have come across in these colors, this is one of the rarest and best possible combination that could have rolled off the factory floor and further, it was one of the first! As a gentleman's car, this is one of the few that was ordered in classic, understated, and elegant colors. The stunning and timeless colors are both period correct and still fashionable today whether it be a trip to the country club or country home with understated elegance.
What makes this vehicle truly worth owning is the level of detail and hand assembled craftsmanship that is present in no automobile currently produced. This magnificent motorcar was produced in an era when owning a Mercedes-Benz meant something significant. There was no such thing as a $299 a month lease on a new C-Class; ownership was reserved for just a select few. This vehicle was one of the most expensive and best overall vehicles available during its time; it combined the road holding ability of a sports car with the opulent appointments of the finest luxury cars. This was a vehicle for the most discerning individual to whom sacrificing any virtue of the vehicle for the sake of another was unacceptable.
Setting this vehicle apart from nearly all others is that it was one of the earliest R107's ever made, produced in August 1971. The early cars came with a many carryover things from the previous SL's that the later built cars do not have, along with being able to say you have one of the first of one of the most successful SL's ever made. Further, this vehicle just underwent a major service and is ready to be enjoyed today! During the service we changed the oil/filter, spark plugs, air filter, and serviced the A/C. We have not seen a car that compares to what this one has to offer. Offered for the true collector, investor, or enthusiast who understands and appreciates the investment potential of this extremely rare, low mile, top of the line, correct, and very early production Mercedes-Benz 350SL! Bid with confidence-you will not be disappointed in this truly amazing motorcar!
Call us for a complete walk around; we will supply you with a detailed description and answer any questions you may have!
PPW Motorcars is located at 9350 Woodson Terrace Ind. Ct less than ONE mile away from St. Louis International Airport (Airport Code STL).
Please call Paul Weishaar, day or night, for more details or any questions (618)791-4020
Why buy from PPW Motorcars?
With many years of specialty experience in the Classic, Luxury, and Exotic motorcar business and a lifetime of passion PPW Motorcars serves some of the worlds most sophisticated and discerning buyers. We pride ourselves on honesty, expertise of some of the world's finest vehicles, and a promise to each buyer that the vehicle they purchase will be the exact same one that arrives at their doorstep. We strive to make your purchasing experience easy, convenient, and confidence inspiring. With a central location just minutes away from St. Louis International Airport (Airport Code STL) we are happy to pick customers up curbside or deliver the vehicle to your doorstep. We pride ourselves on integrity, excellent communication, and diligent follow up.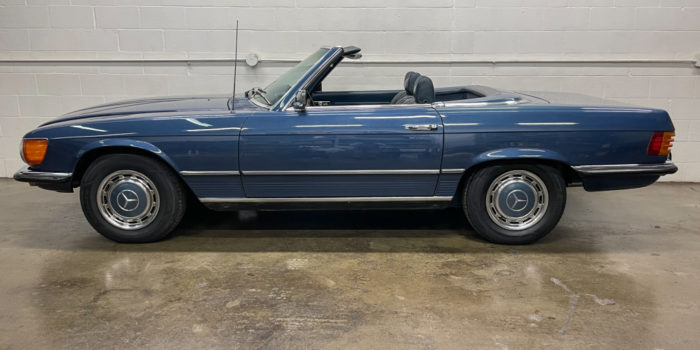 Contact us regarding this listing
Back to Top